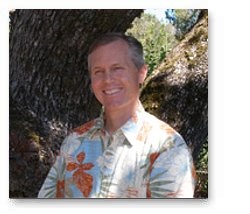 Hello, and welcome to the website of Come Let Us Reason! Please let me take a moment to introduce myself and the ministry of CLR.
After growing up in the San Francisco Bay Area, I graduated from U.C. Santa Cruz in 1969 with a degree in Philosophy. Like many of my fellow baby-boomers, I was spiritually restless, and soon plunged headlong into the counterculture. For four years I studied and practiced a wide variety of eastern religions, especially Zen Buddhism. Then, in 1974, the God of the Bible graciously stepped in, turning a seeker into a finder, a sinner into a "saint," and a spiritual orphan into a beloved son–all through a life-changing revelation of the Lord Jesus Christ.
After my conversion, I married Linda, and together we attended Melodyland School of Theology in Anaheim, California (sharing the name of my alma mater is always an exercise in humility, but truth to tell, I enjoyed my time there very much). There I began to experience a love for systematic theology, and an increasing desire to teach the Bible.
Since my graduation in 1980 (M. Div.), Linda and I have followed the Lord down many roads. I served as a pastor, teaching elder, Sunday School director (with Linda), Christian bookstore manager, pro-life leader, and substitute school teacher.
Then, about a decade back, after completing a stint as teaching pastor in a small Reformed Baptist church, I decided to launch Come Let Us Reason, a Bible teaching ministry devoted to Biblical Apologetics and Worldview Studies. By visiting the Seminars and Sermons pages of this website, you can get a feel for some of the talks I enjoy bringing to God's people.
My labors at CLR have also allowed me to devote considerable time and energy to my first (vocational) love, which is writing.
In 2005, I published my first book, The Dangerous Journey of Sherman the Sheep, an allegorical adventure story for "tween" boys and sheep of all ages.
In 2007, I released In Search of the Beginning; A Seeker's Journey to the Origin of the Universe, Life, and Man. This ambitious work is an in-depth study in comparative cosmology, one that seeks to demonstrate the profound reasonableness and beauty of the traditional biblical model. A few years back it appeared in a revised edition that features additional material on topics such as cosmic geocentricity and New Age cosmology.
In 2010 I published what I regard as my most important book, The Test: A Seeker's Journey to the Meaning of Life. Equal parts apologetics, systematic theology, and autobiography, this book is my "theory of everything," as well as my best effort at opening up the glories–and reasonableness–of the biblical worldview to spiritually famished postmodern man.
From the testimonial portions of The Test, I subsequently crafted A Furnace for Gold: A Child of the Sixties Takes the Test of Life. This booklet, designed especially to reach out to seekers immersed in eastern religion, relates the story of my conversion and the fundamentals of the gospel. A complimentary PDF version is available by clicking here.
Finally, in 2014 I released The High King of Heaven: Discovering the Master Keys to the Great End Time Debate. This BIG book (700 pages!) is an in-depth exposition and defense of amillennial eschatology. Did I finally resolve the Great End Time Debate? You'll have to read it to find out!
Most recently, I have been working on The New Testament into English for Pulpit and Pew, a project that is now nearly complete. The fruit of my labors is posted on this website; Lord willing, it will appear in hard copy quite soon soon.
Through all the years of change, work, struggle, and growth, my love of teaching and writing has remained constant. Grateful that these gifts have been affirmed by various Christian friends and leaders, I continue to to use them by teaching seminars, maintaining this website, and publishing books through the ministry of CLR.
Linda and I currently reside in Santa Rosa, California. Believing with Luther Burbank that it is indeed "the chosen spot of the earth as far as nature is concerned," we are happily growing older together here, even as we keep careful tabs on our five far-flung kids: Mark, Beth, Jonathan, Rebekah, and Sara.
Again, welcome to the website of CLR. I sincerely hope you will enjoy browsing around, and that one day we might even be able to meet for a little reasoning together, face to face.
Dean Davis